Did someone say chocolate?
Chocoholics rejoice!!
Finally, a week that all chocolate lovers have been waiting for is here…. National Chocolate Week is on between 9th and 15th October 2017!
When we think of chocolate we tend to picture bars of the stuff or boxes such as Cadburys milk tray. Let's be honest, it's a sweet treat that we all enjoy once in a while (or daily – no one is judging anyone here!!) However it hasn't always been that way. For about 90% of its existence chocolate was a sugarless beverage!
A brief history of Chocolate
Many modern historians have estimated that chocolate has been around for about 2000 years, but recent research suggests that it may be even older. It is hard to find out exactly how old it is but what is clear that from the start it has been treasured. In fact, for several centuries in pre-modern Latin America, cacao beans were considered valuable enough to use as currency.
Sweetened chocolate appeared when the Europeans discovered the Americas and sampled the native cuisines. They added honey to the drink in order to sweeten it. By the 17th century, chocolate was a fashionable drink throughout Europe reserved for the riches.
The creation of the first modern chocolate bar is credited to Joseph Fry, who in 1847 discovered that he could make a moldable chocolate paste by adding melted cacao butter back into the powder that had been created previously.
By 1868, a little company called Cadbury was marketing boxes of chocolate candies in England. Milk chocolate hit the market a few years later, pioneered by another name that may ring a bell – Nestle. Find out more about the history of Cadbury and the development of Chocolate here.
Modern day
Although still created in roughly the same way, modern day chocolate is a far cry from what the Aztecs once called chocolate. Nowadays it comes in so many forms. From the traditional hot drink to chocolate covered chillis. In fact, there are even companies creating realistic objects out of chocolate. The Amazing Chocolate Workshop has some remarkable collections which create unique gifts for all chocolate lovers. Below are a few examples…
Cotton Reel, Scissor, 3 Buttons, Thimble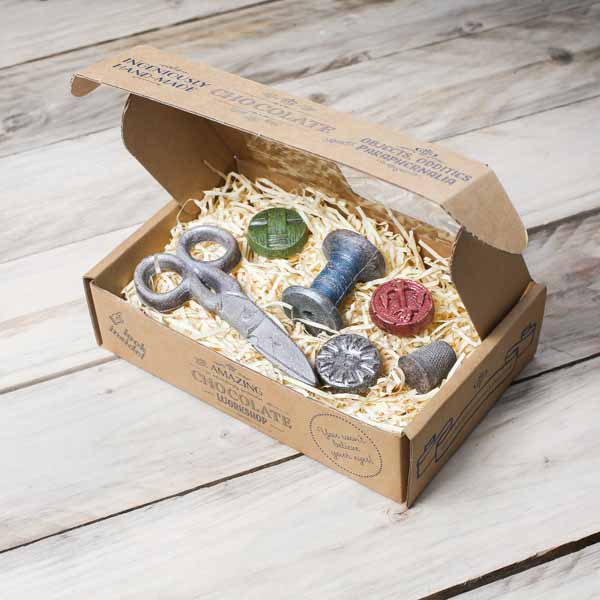 Full-Size Chocolate Camera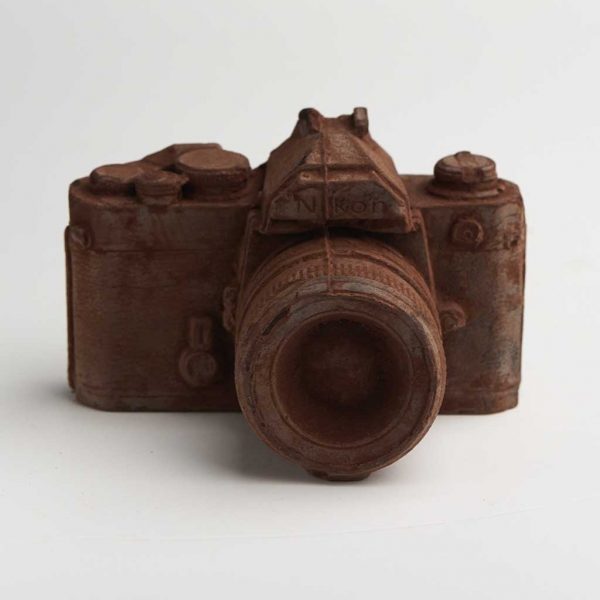 Modern Taste
Gone are the days of one simple flavour. Whilst still having the basic base flavours of white, milk and dark – plus a new ruby flavour which you can read about in our weekly vine – chocolate manufacturers have devised a multitude of fabulous flavours. Both Divine Chocolate and Green and Blacks are famous for their quirky bars, with my personal favourite being this White chocolate and strawberry bar! (If you haven't tried it yet, I strongly recommend it!!) Even Cadbury have a whopping 28 different single bars and 18 sharing bars. 
Chocolate show
To celebrate National Chocolate week, there is a whole chocolate show in London. The London Chocolate Show is the UK's biggest chocolate celebration. It's a celebration of chocolate in all its forms – bars, truffles, cakes, desserts, ice cream, baking, cocktails, sculptures and more. The event includes live celebrity chef demonstrations, workshops, tastings, masterclasses, a children's area, top chocolatiers and chocolate companies from the UK and around the world. Find tickets here.
If you are unable to go to the show, why not celebrate this melt in the mouth treat at home. Buy some chocolatey goodies and share with friends. Or why not bake something fantastic with chocolate. There are so many recipes online – here are a few.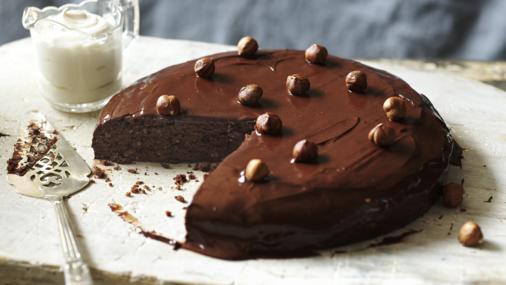 To show a little more appreciation to this wonderful treat, here are a few interesting facts you might not know about chocolate
Happy Chocolate Week!
White Chocolate Is Not Chocolate. This is because it doesn't contain cocoa solids or chocolate liquor, meaning it isn't chocolate in the strict sense. But it does contain parts of the cacao bean—mainly cocoa butter.
The Aztecs loved and valued the cacao bean so highly that they used it as currency during the height of their civilisation.
Eating dark chocolate every day reduces the risk of heart disease by one-third.
The blood in Psycho's famous shower scene was actually chocolate syrup.
The smell of chocolate increases theta brain waves, which triggers relaxation.
At one point the Nazis plotted to assassinate Winston Churchill with an exploding bar of chocolate.
Chocolate is the only edible substance to melt around 93° F, just below human body temperature. That's why chocolate melts in your mouth.
The first chocolate bar was invented in 1847 by Joseph Fry.
Chocolate has an anti-bacterial effect on the mouth and protects against tooth decay